DAF XF 106 High Performance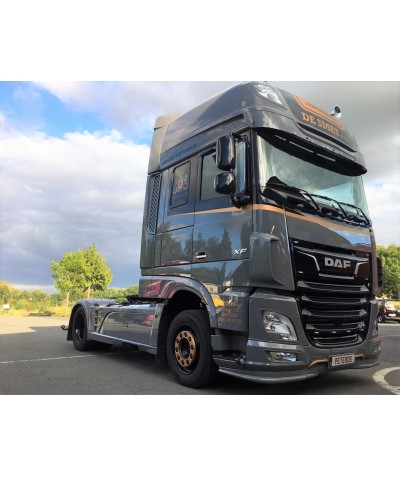 A new limited edition version DAF XF High Performance released now in 2019 but very interesting, made by a DAF dealer in the Netherlands.
This truck will be made in a limited edition of 25 copies.
Many modifications in addition to the external livery have been added to the series model.
Each DAF XF High Performance will receive a gray-gold paint job, new side skirts with imitation of the air intakes, a decorative exhaust nozzle and a lip
under the bumper.

Inside the special DAF XF we will find an exclusive leather upholstery, made in the style of sports cars, such as Audi RS6 or BMW M3 and plastic inserts with imitation of carbon. Two engines are available: Paccar MX-13 480 jp and MX-13 530 hp.

DAF XF High Performance was developed by Bakker Bedrijfswagens, the official DAF dealer in the Netherlands.
Comments
No comment at this time!
Leave your comment