Pegaso Troner TX360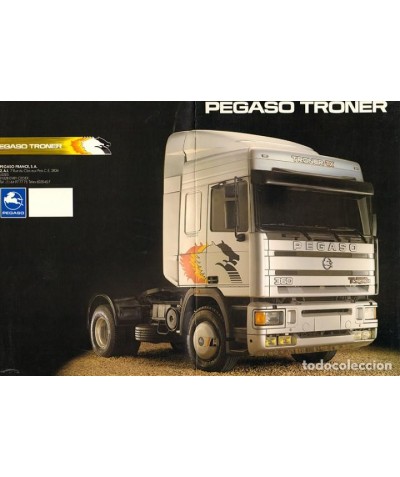 Questo progetto ci ha affascinato da subito, abbiamo iniziato come di consueto a fare ricerca di immagini ed a ricostruire l'evoluzione della livrea. Ci ha colpito la grande quantità di versioni realizzate sia da carrozzerie che dalla stessa casa produttrice a seconda delle varie motorizzazioni e deile diverse annate di produzione.
Thanks also to the patient help of some model makers (we thank
Javier Calderon, Pascal Gerrits and CJ Carrion
) we were able to get to the head of the puzzle by managing to match the right livery to the real right vehicle and to the relative scale model produced by various brands on the market ( Tekno, Zon Model, IXO) in both 1:43 and 1:50 scale.
As anticipated, the livery is found on many trucks with slight differences, looking on the web you will find very different images from each other so it is good to pay attention to the livery you want to reproduce and compare it with the image of the decal to then obtain the optical yield desired.
In the end, for the production of the catalog we chose to diversify and offer the decals for the Iveco Pegaso Troner TX 360 Hi-Way (M64474) and for the Pegaso Troner TX 360 (M64474A) for the 1:50 scale.
Comments
No comment at this time!
Leave your comment