Scania 142M King 5000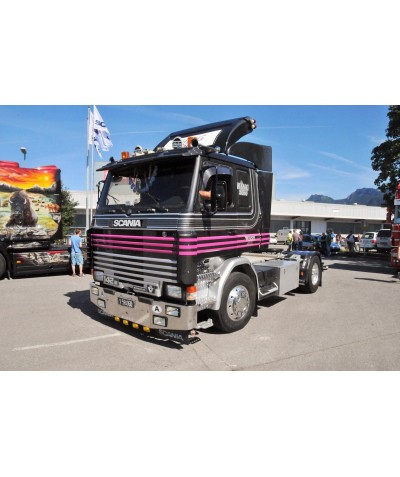 In 1987, the 6-cylinder engine was king in Austria, so Scania's stroke of genius to launch the V8 engine on the Austrian market.
The special version of the Scania 142M King 5000 is born in the color with white, silver and cyclamen stripes.
King stood for RE and was the name by which the V8 was called, while 5000 was the number of V8 engines that had left the factory in order to increase sales of the 142 series in Austrian.

Very few copies were sold to Austrian customers (we are talking about 15) which obviously sold out quickly.
The truck had 420hp and as standard came with ABS, electric engine heating, air conditioning, seat belts, aluminum tank and rims, full chrome exhaust pipe, neon lettered spoiler set, two tone horn, seat covers, radio Bremen sqr46, CB radio and auxiliary heating, the rest of the equipment corresponded to the high Austrian standard of Scania.
In Same Category
Related by Tags
Comments
No comment at this time!
Leave your comment