Rynart in miniature!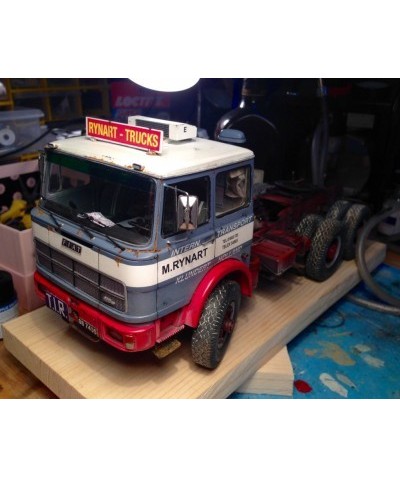 Often modeling is made of passions and small personal satisfactions, often of dreams.

For me this model, made by Comodo De Tritis, is a bit like this.

Let's start from the beginning: with Comodo we met in Novegro  some years ago, we talked together about our passion for old Fiat trucks of the 1970s. He was building, from scratch, a Fiat 682 at that time.

Later, we felt more than once, he lives abroad and I follow his projects. Among other things, you can take a look at its "Love GT40 Modelworks" page where there are some wonderful jobs, and from there his dreams have started to travel with my own.

The truck you see in the picture represents for me a passion linked to an era, the Middle East, which now no longer exists.

Trucks, traveling along the Middle East routes under crazy conditions, crossed the desert at temperatures over 40 degrees and then climbed up to 3000 meters, above the Tahir pass much below 0 degrees, without forgetting that we were in the 70s and technology was the one that was, so they needed robust and reliable trucks.

The Fiat 697 did their job consistently and determinedly and a Dutch company, Rynart, bought many of them to put to work on these trails, a job that they did very well!

The trucks were almost always dirty, often you could not even distinguish the colors, often rusty, scratched and bruised, but this was their beautiful, each of them told a story made of sacrifices and difficulties.

Seeing this model it means breathes the same air that was at the time, same emotions, perfectly self-built in all its parts including scratches, wear and tear! I also made my small part to make it become THE ONE: I made the front mask together with the writing and I can only be satisfied!
Comments
No comment at this time!
Leave your comment