The new Sideguard Assist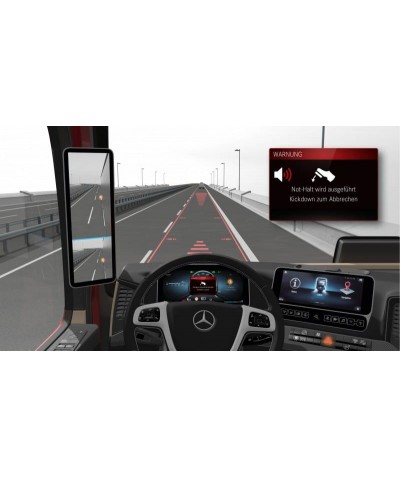 Mercedes-Benz Truck has always been a leader in terms of safety and driver assistance systems. Last autumn, the 2 new upgrades were presented as a world premiere, which will provide ever better support to the trucker business, increasing the safety of all road users.
The S1R turning assistance system has already been available for most Actros, Arocs and Econic vehicles since 2016. The system detects the presence of a cyclist, a pedestrian or a fixed obstacle, warning the driver and protecting road users from potential danger when turning.
Active Sideguard Assist with automated braking intervention.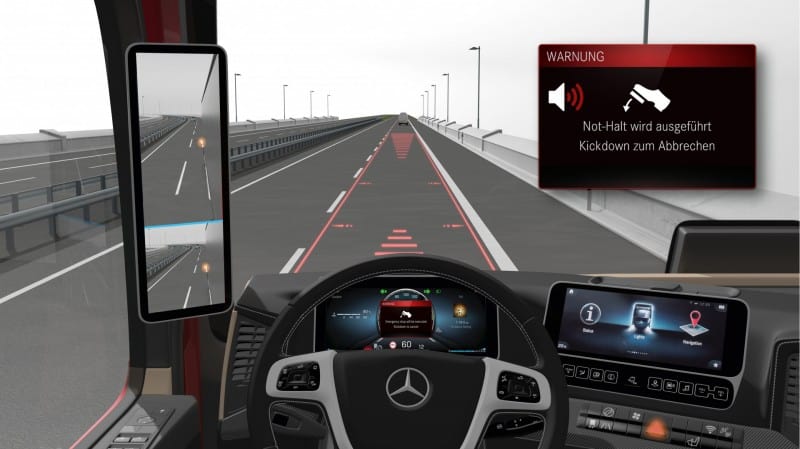 As of June 2021, the S1R Turn Assist System will be replaced by the new S1X Turn Assist System in most Actros and Arocs models.
The new Activet Sideguard Assist, in addition to alerting the driver of the presence of cyclists or pedestrians moving on the passenger side, can also perform automated braking until the vehicle comes to a complete stop (in the event of a turning speed not exceeding 20 km / h) , if the driver does not react to the warning signs.
The new technology applied to the ASGA makes it possible to detect the need for this braking intervention based on the steering angle and, within certain limits, can avoid a possible collision.
Mercedes-Benz Trucks is the first truck manufacturer in the world to provide such a system with active braking, an important tool for reducing and avoiding road accidents that can even cost lives.
Active Drive Assist 2 with Emergency Stop function
The innovative Active Drive Assist (ADA), introduced in 2018 on the new Mercedes-Benz Actros, made it possible for the first time in the world to partially automated level 2 driving in a production truck.
The ADA allows the truck to brake autonomously if it gets too close to the vehicle in front (certain conditions such as sufficient curve radius and clearly visible lane markings must exist).
Starting from June 2021, the new Active Drive Assist 2 system will be introduced, an even more advanced tool.
ADA 2 will be able to initiate emergency braking if, while driving, the system detects that the driver no longer intervenes continuously in the driving process.
The system invites the driver to reposition their hands on the steering wheel through optical and acoustic signals. If after 60 seconds the driver still does not react, the truck is able - within the limits of the system - to decelerate until it stops safely in its lane and to warn the traffic that follows by activating the hazard warning light. Once the truck has stopped, the system activates the new electronic parking brake and unlocks the doors, in order to allow a possible rescue.
Both systems can be ordered immediately and will be available from June 2021
In Same Category
Related by Tags
Comments
No comment at this time!
Leave your comment