Photo etchings: anchor for tubes for braking system and electrical contacts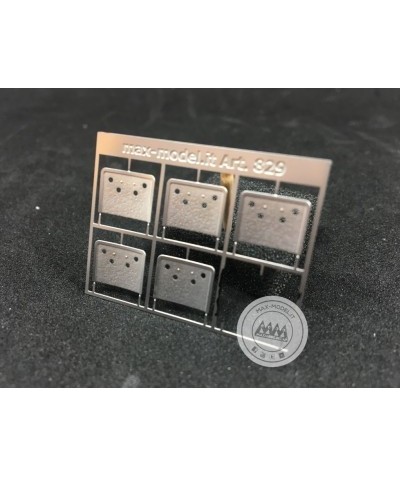 When a model attracts our attention and strikes us in its beauty, if we look carefully we realize that it is the level of detail that has made it emerge: a very simple detail of great importance to complete the realization of any type of model is precisely the tube holder frame.

The small frame is placed on the rear wall of each road tractor, this small object has a truly fundamental task: it is the distributor of taps for trailer services.

Specifically, they convey the air contacts for braking and the electrical contacts for the trailer's electrical system.

Each model has its own type which is fitted as standard but there are also decorative ones on the market, from here the entire range available for each of your models is born in the catalog.

These are photo-engravings rich in details and faithfully reproducing reality.

The kit is made of small plates with 6 distributors so that you can complete your models.

We get to the heart of each kit: we have made ONE specific for each brand, each made to perfection and different with all the details taken from reality, all of them can be painted in the desired color to have maximum versatility and to customize the model to depending on your needs.

They can be cut with a simple cutter and stick with any type of glue.
VOLVO FH4
art.822
DAF XF106

art.821
MERCEDES MP4

art.820
TRASPORTI ECCEZIONALI

art.825
GENERICO PERSONALIZZABILE

art.829
MAN TGX

art.823
IVECO STRALIS HI-WAY

art.824
Comments
No comment at this time!
Leave your comment