My "Le Mans" dream
It was a fairly sunny day, a perfect day to go around the stands of a fair and watch the trucks on the racing circuit, but I was very far from my destination.

After preparing and taking everything necessary for the trip, I headed towards the vehicle that would accompany me all the way to France: my car.

The journey was long, time never flowed, every hour and minute seemed infinite so halfway through the trip I decided to turn on some music to brighten the atmosphere, after hours and hours of travel I finally managed to reach my destination.

I immediately went to the hotel because the following day a crazy day was waiting for me; destroyed by the journey I threw myself on the bed and in a moment I had reached the world of dreams ...

* Drin drin drin * to interrupt my beautiful dream was the alarm clock that rang insistently throughout the room, I jumped up thinking of the day ahead; after preparing quickly and having breakfast I walked on foot, as the fair was not far from the hotel. I was headed for one of the most famous events here in France it was just "Le Mans". My dream.

I had just arrived, I already heard the noise of the engines and the smell of worn tires on the asphalt and wandered around the fair when, at a certain point, I noticed this truck, with a color not every day, it was a Scania of color bright yellow with all the decorations in blue ... on the sides of the cabin always in blue there was a griffin that spit fire: on the side there was also the number with which he would have competed on 44; I didn't have much time to admire him because shortly after he was taken to the track, so I decided to go and sit on the steps to admire him a little more ...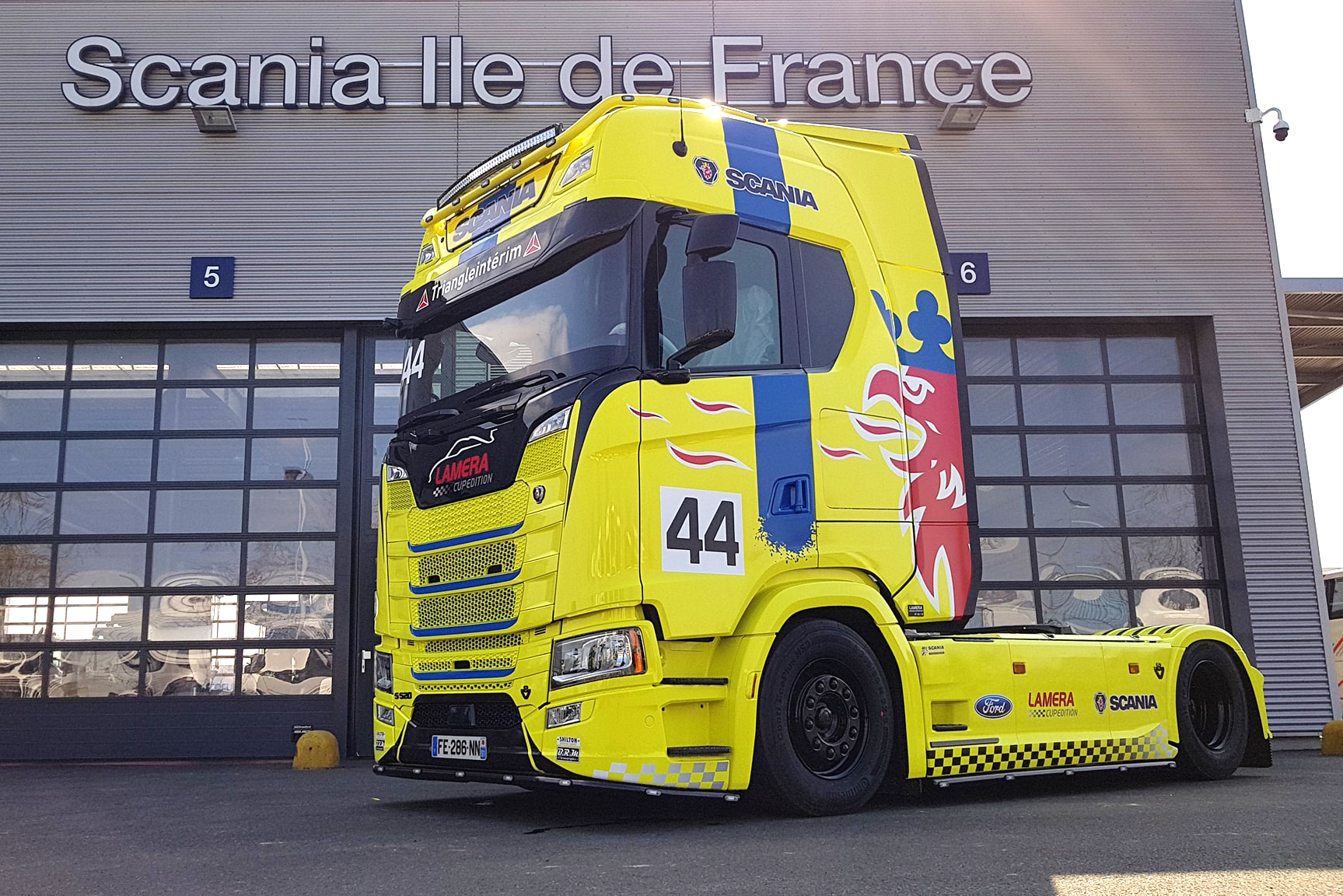 The race had just ended, unfortunately the 44 had not won, but had earned second place, not bad I would say! As I headed towards the exit and then returned to the hotel, it occurred to me that ... I had cheered for that truck, I had admired him so much but .... I hadn't taken any photos! I changed direction and walked towards the Scania garage where I managed to fill all the memory of my digital camera with the images of that wonderful truck!



On the way back I had no thoughts except for the yellow beast, he had taken me completely now!
 When you are obsessed, it makes no sense to oppose it, but the wisest thing is to let yourself be wrapped and dragged.


Here's how the 1:87 scale model was born, I had to have that truck forever, if not in the garage at least on the shelf!
Comments
No comment at this time!
Leave your comment