The Tuesday after the auction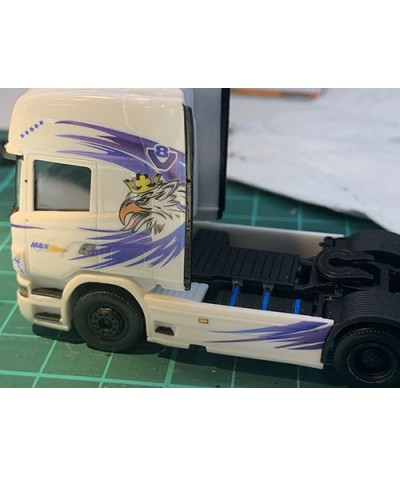 The Tuesday after the auction is a relaxed Tuesday, Grandpa Massimo is one of us and Max has in mind a simple project that can be done in one breath in one live broadcast.

It is a white Scania R found at the bottom of a box and given Max's large stocks, the project starts.
Thanks to those who continue to donate for the Meyer Pediatric Hospital and I refer to Erich and Werner who contributed as external donors together with Nonno Massimo and Jerri.

Max starts by reassembling the model, but not before having decorated the interior and added the inevitable and precious cabin accessories.
The model takes shape and even if Max is busy he finds time to admonish Grandpa Massimo who in the meantime has dedicated himself to his favorite activity: "groping" at the models on the shelves behind his back! Poor Max spent the whole weekend tidying them up and cataloging them, a job he is very proud of.

The model approaches the final appearance with the assembly of the decals, the details are decided together with those who follow the live broadcast, then the "Max & Friends" logo is added on the front and on the two doors and the more it is defined, the more Max and Grandpa Massimo find it interesting .

Although Max likes to program the appearance of a model first, it seems that when he realizes a project it comes to life when his hands assemble it.
Everything goes smoothly and detail after detail tonight we did it a little later than usual, Grandpa Massimo paws while he is pressed by Leti to give GOOD NIGHT to everyone
so see you next ...
In Same Category
Related by Tags
Comments
No comment at this time!
Leave your comment