Scania Super the new range of 13-liter trucks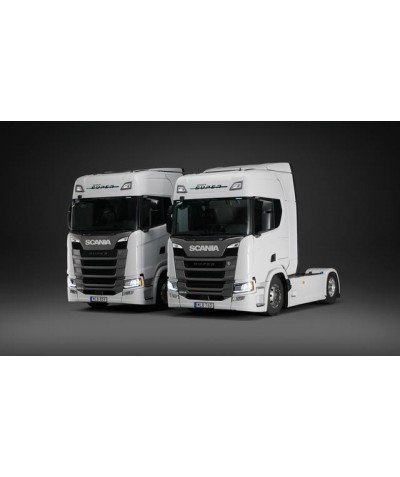 The new 13-liter Scania Super range was presented on November 12, not only has the engine again, but also an important initiative to strengthen sustainable transport for the next decade.
With its completely new engine platform for Euro 6 vehicles, from 420 to 560 hp, the Scania Super powertrain promises fuel savings that typically reach 8% for long-haul customers. All engines have inherent capabilities for HVO fuel and two can be ordered in FAME biodiesel versions. Other versions will follow for non-European markets and for biomethane solutions. The new powertrain also includes new differentials and gearboxes and a premium service, Scania ProCare, for customers who demand maximum uptime.
The sober livery with the classic Super lettering in blue on the front makes it simple but elegant.
Summarizing, here are the news you will see in this medium:
• The new Scania Super powertrain focuses on sustainability with at least 8% fuel savings
• Important news on chassis, chassis, differentials and tanks for greater modularity
• Scania ProCare offers maximum uptime for business-critical industrial vehicles
• Scania's Science Based Targets are the guiding star of the company, which aims to achieve them by combining fuel economy, fuels from renewable sources and electrification.
Comments
No comment at this time!
Leave your comment