Scania R 730 The Emerald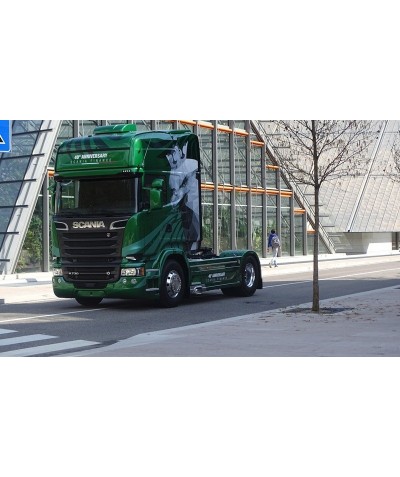 The Emerald version is a limited edition exclusive for the Italian market, only forty units, designed and desired on the occasion of Scania Finance's fortieth birthday, the emerald green Scania R 730 is certainly the most special of the very specials signed by the Swedish manufacturer. (which are not few: among the most recent, the Top Class of 2002, The King of 2003, The Griffin of 2006, the Blue Shark of 2008).
The special version obviously leverages on exclusive contents such as to make it a collector's item. The very elegant proposal relies on at least a couple of elements that can be conceptually considered highly innovative in a certain sense.
Never, for example, had it never happened that a limited edition was designed and built not to celebrate sales results, successes or sporting references, events or whatever, but, quite simply, the birthday of a financial structure.
Above all, it had never happened that the authentic hallmark of the special series was not so much the technological content of the model, but rather the package of integrated services offered by the manufacturer to customers. Here is the real added value of the forty collectible pieces in emerald green livery.
Comments
No comment at this time!
Leave your comment