News Tuesday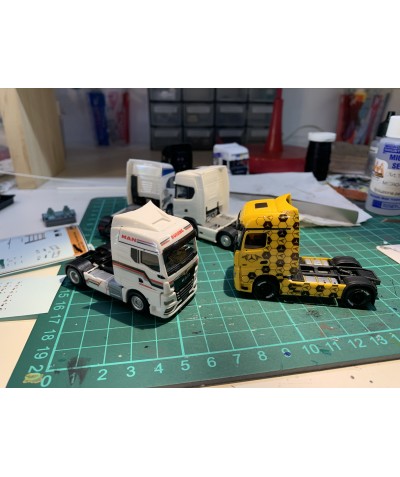 What are we doing tonight?
Well a little different format Max decided to make a model for each novelty.
Nonno Massimo is one of us again tonight and is immediately fascinated by the new project.
Max He made his Mercedes MP4 Hornet fully equipped, but on the table there are 3 white models ready to be decorated and they are:
of a brand new Iveco S-Way, a Man TGX 2020 and a 3-axle Scania S, naturally Max also shows the graphics that were previously pre-cut so he just has to start.
The first under the clutches of the good Max is the Man 2020 TGX decided with the help of everyone who will mount a brand new livery designed by the Max-Models Büssing Edition.
The editing goes on with various advice from Antonio, Jerri and many others, the time is now close to late and Leti begins to feel tired here is the diligent Grandpa Massimo after reflecting on how the new decal had changed a simple white model, he is about to say good night to everyone, giving the appointment for Tuesday 8 February, so be careful because next Tuesday we rest ...

Comments
No comment at this time!
Leave your comment